Welcome to Coach Approach Ministries.
Whether your goal is to become a professional coach, use coaching in Christian ministry, or apply coaching skills in your marketplace job, CAM is here for you.
Our team of coaches and trainers is dedicated to helping you grow the skills, confidence, and credibility you need to change the world as a coach.
Let's get started!

Your next step as a Christian coach is an important one. Whatever it is, we're here to help.

THE 9 THINGS IT REALLY TAKES
TO BE A GREAT COACH
By Chad Hall, MCC
Ready for the real scoop on what it takes to coach?  In this free ebook, CAM President Chad Hall cuts through the myths and reveals the essentials for being a great coach.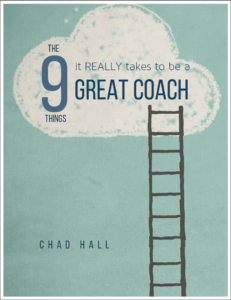 UPCOMING WEBINARS

Each quarter the CAM leadership team offers a 45-minute webinar to the coaching community around the world.  Registration is free and you can sign up using the links below.
Please Note: Space is limited to 100 attendees — and we typically have 250+ registrations — so arrive early to save your spot.  Also, if you can't make it live, go ahead and register anyway and you'll get an email after the webinar with a link to the recording. We keep the last recorded webinar available.
GET STARTED WITH A COACH
---
Each Certified Christian Leadership Coach (CCLC) is trained and qualified to provide great value. Find a coach as well as client resources that will help you make the most of your investment in coaching.
OUR MOST RECENT PODCAST EPISODES
Want tons of free resources and support?
JOIN OUR NETWORK
Don't miss a single blog post or podcast. 
Sign up and we'll deliver one every week straight to your inbox.  Plus, you'll always be in the loop to know about our free webinars and other resources.

ABOUT US
---
We are pioneers and prophets in the world of Christian coaching – a collection of coaches and coach trainers who train the best Christian coaches in the world.
Each year we equip hundreds of people worldwide to coach others as they find their way with God – be that in business, ministry, community or any arena of life.
If you're ready to make a difference through the power of coaching, you're in the right place. Welcome to the movement!
CONTACT
---
Need to talk to one of our team members?  We're available to answer questions about our services or to explore how we can be of help to you or your organization.