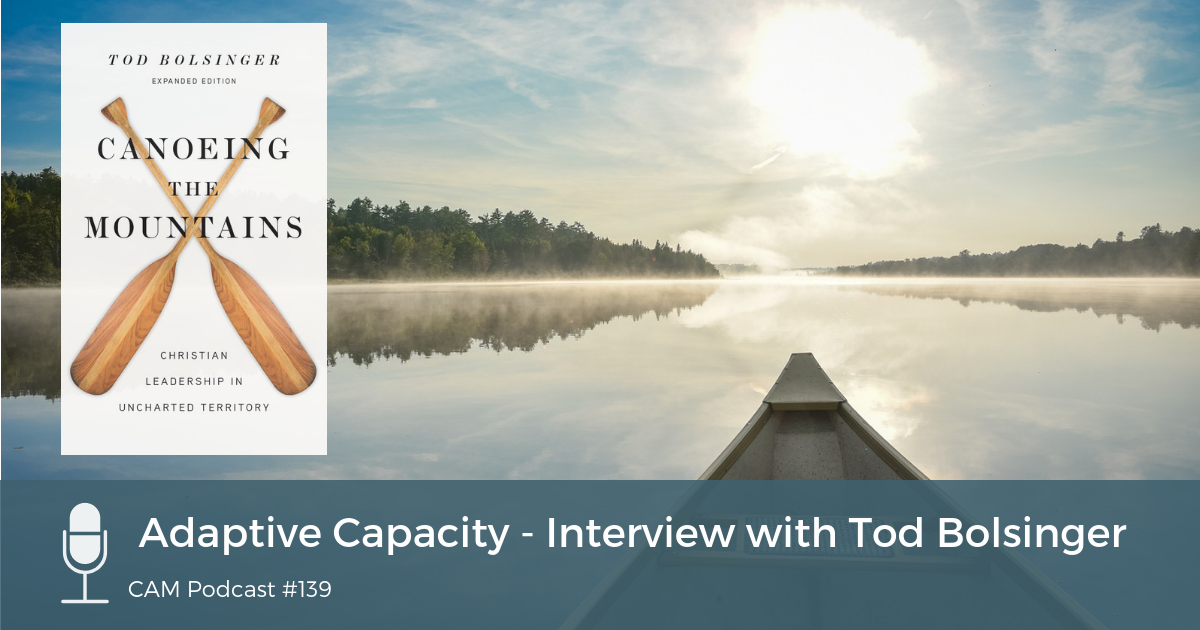 Today Brian interviews Dr. Tod Bolsinger, author of Canoeing the Mountains: Christian Leadership in Uncharted Territory. Tod is the Vice President and chief of leadership formation at Fuller Seminary. He is an ordained pastor and consults and coaches with churches and nonprofits.
Adaptive challenges are those that "cannot be solved with one's
existing knowledge and skills, requiring people to make a shift in their values, expectations, attitudes, or habits of behavior."
An understanding of this kind of adaptive leadership has three characteristics:
1. a changing environment where there is no clear answer
2. the necessity for both leaders and followers to learn, especially the leader's own ongoing transformation
3. the unavoidable reality that a new solution will result in loss
From Tod's book, a list of questions and suggestions he often asks his coaching clients:
What is the song behind the words that is keeping us all dancing? In other words, what deeper tune of the church is getting played in this circumstance? What is going on in this situation that nobody is talking about but is affecting the whole system of the church? – p 115
I also often coach my pastor clients to give a yearly "I Have a Dream" sermon in order to keep raising the urgency in the congregation. – p 142
As a coach to pastors, I am almost always in the role of confidant. – p 159
I tell my coaching clients, "You must bring yourself to your role, but you are not your role." – p 211
I often coach my clients, "Make your goal in every conversation to have someone roll their eyes upward (which indicates that they are thinking differently) and say, 'That's a great question.'" – p 213
Text "canoeing" to 66866 for more resources from Tod.