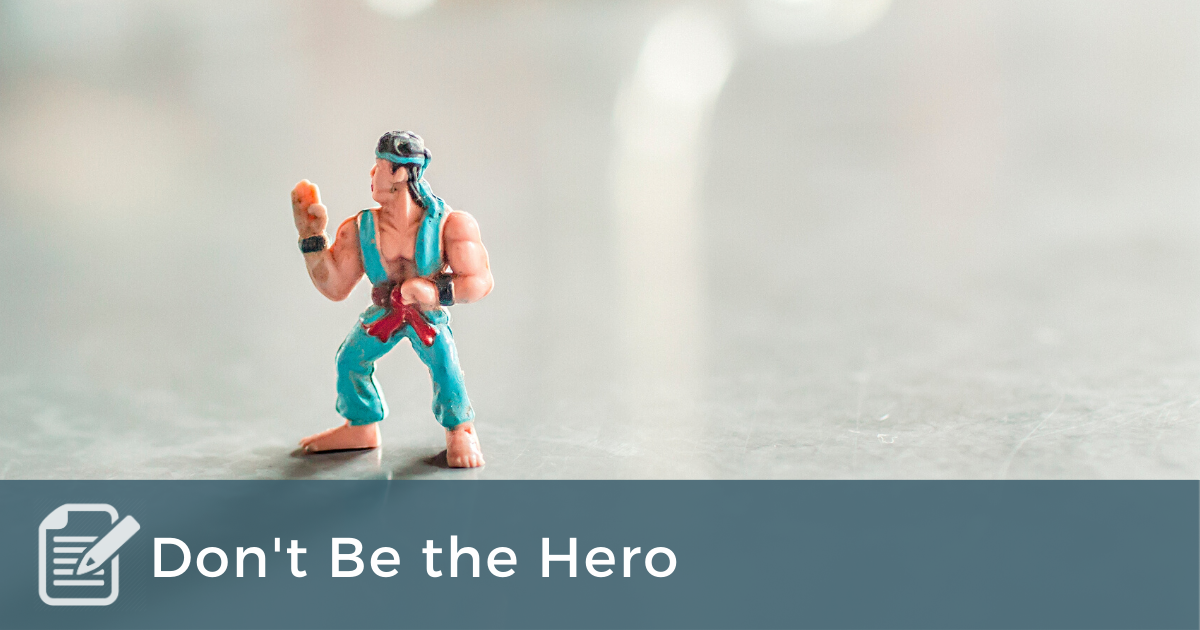 Three phrases came to my mind to begin 2020.
1. Do the work
2. Be present
3. Don't be the hero
Over the last few months, I wrote blog posts on the first two. Here is my final installment.
Don't Be the Hero
The sweat on my body turned cold while I stood at the free throw line, spinning the basketball between my hands, bouncing it three times on the floor. It wasn't a game. It was practice, which for us, was always twice as hard as a game. Coach had us running suicides – run from the baseline to the free throw line and back, then half court and back, then the opposite free throw line and back, and then the full court and back, all at a sprint, all while being covered in shame from a coach who loves to "motivate." After each run, he gave us a chance to end the suffering by putting one of us at the free throw line to make two shots in a row.
Our best shooters had already taken their turn. They missed. We ran again. And again. Anxiety was setting in as we wondered if we could make this suffering stop, or were we doomed to walk off the court in pain and failure?
Coach asked who would shoot next. It was my turn. I boldly raised my hand. "Miller, take the shots," Coach barked. I walked to the line, put my right toe on the center nail, bounced the ball three times, set my elbow straight in front of me, and followed through with my hand, as if I could push the ball down into the basket. The ball rattled the rim and then fell through the net.
My teammates now had some hope that the madness might end, but they weren't cocky about it. Better shooters had failed. In all honesty, I shot around 60% from the free throw line. This isn't a strong percentage. I let my mind go blank. It wasn't hard as tired and sore as I was. I didn't have the energy to think.
I put my toe on the line, set my elbow, and followed through. The net snapped like a bull whip. Nothing but net. It took a minute for everyone to take in what had just happened. Coach seemed a bit surprised. He had to retract his planned statement ordering us back to the line and replaced it with an almost disappointed, "Ok, that's it. Hit the showers."
Coach had told us to be the kind of person who wanted the ball in their hands when the game was on the line. The problem was he didn't really want the ball in my hands when the game was on the line.
Most people don't want to be the hero. That surprises me. I always wanted to be Captain Kirk or Hawkeye Pierce or Reed Richards, leader of the Fantastic Four. Put the ball in my hands at the end of a tight game. As Jimmy said at the end of the game in the classic basketball movie Hoosiers, "I'll make it."
The truth however is that being the hero rarely works out. Over the last five years, I've been involved in a discipleship movement called 3DM. In this movement, you gather a "huddle" of people around you who are committed to learning a set of basic discipleship tools that help them hear from God and do what He asks them to do. The one caveat to joining a huddle is that you must be willing to start another huddle after you've been huddled for a year or two.
The huddles teach good content. I love how the leader is more of a coach. You get a chance to be present with people and grow close. And then after a year… the disciples refuse to start their own huddles. Why? The reason they most often give is that they know they could never huddle a group as well as you have.
One 3DM leader counseled us. "You need to get worse at huddling." He quoted G.K. Chesterton, author of the Christian classic Orthodoxy, who said, "Whatever is worth doing is worth doing badly." His point wasn't that we should try to do things poorly, but that when we are trying to do something important, that we will surely struggle and do it badly at first. We need "heroes" who are willing to model doing things badly.
Jesus himself is quoted as saying, "Very truly I tell you, whoever believes in me will do the works I have been doing, and they will do even greater things than these, because I am going to the Father." (John 14:12) Jesus didn't need to impress. Jesus, in fact, didn't want the ball in his hands as we grow nearer to the end of the age. He wanted the ball in your hands. . . in our hands.
One of the three phrases Jesus gave me for 2020 is "Don't be the hero." I can't be a good coach if I need to be the hero. I can't be a good trainer if I need to be the hero. I can't be a good father or husband or son if I need to be the hero. I'll shoot the free throws when it's my turn. I'll be ready because I will have "done the work." But otherwise, I'll "be present" with those around me, encouraging, supporting, and even challenging them to "do the work." But I won't demand to be the hero because that won't get us where we need to go.