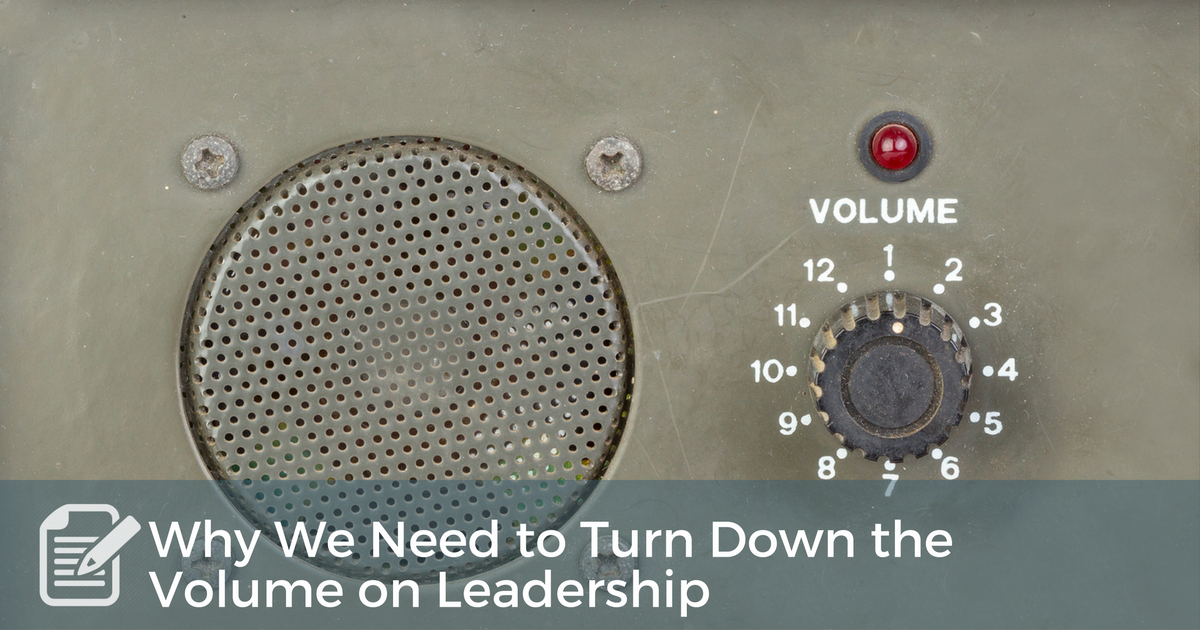 Recently I've had a major change of heart when it comes to leadership.
This change of heart certainly qualifies as a "major" because practically my entire career has been built around leadership.  The first company I helped start was called Smart Leadership. I was a "Leadership Consultant" for a major denomination.  I've attended leadership conferences, read leadership books, listened to leadership podcasts and even the first book I wrote had "Leaders" in the title. I've coached leaders and put myself out there as a leadership coach.  I've quoted and tried to live John Maxwell's mantra that "everything rises or falls on leadership."   In other words, I've been all in when it comes to leadership.  But now I'm getting out. 
Don't get me wrong, I'm not abandoning leadership; I'm just moving it to its proper spot in the order of things.
My conversion away from "leadership first" started a few months ago when I and several other community leaders were discussing what we could do to make our community better.  All of us were singing loud and proud from the "leadership first" songbook.  We said things like, "Our city needs strong leaders," and "We need to grow leaders in every corner of the community," and "We should teach leadership in our schools," and "Our first priority needs to be leadership."  I was all in, until I wasn't. In a flash, I wondered, "To what end is all this leadership going to lead?"
It was in that moment I realized something maybe you've known all along: leadership is of instrumental value, not intrinsic value.
You see, leadership is valuable, but it's not valuable in and of itself.  It's a means, not an end.  It's a pathway, not a destination.  It's valuable because it helps us get some other thing that is intrinsically valuable, but it's not intrinsically valuable.  BTW, if you're not clear on the difference between intrinsic and instrumental value, check out this short course from Kahn Academy.
Billions of dollars and at least that many hours have been invested developing leaders over the past few decades.  Leadership development is a huge industry and a mega-sized emphasis in pretty much every sector, from FORTUNE 100 companies to denominations and mission agencies, to non-profit and government.  But look around: where is all this leadership getting us?  The things we celebrate in life are not leadership, they are what leadership helps produce.
So let's celebrate and even promote leadership, but let's do so only when we are clear what we want leadership to produce. Here are four suggestions for doing that:
Define the good life. Any leader who does not help followers live the good life is leading in the wrong direction.  The good life is not a job, money, free time, etc.  Like leadership, those are all good things, but they are not the intrinsic good that life is about.  Philosophers and religious teachers define the good life as the way a human is meant to live. What's your definition and description of the good life?
Align mission to the good life. Leaders lead people, often within a movement or an organization.  How does the mission of your movement/organization align to your definition of the good life? Is there alignment?  If not, what needs to change?
Let the intrinsic inspire. As Kouzes and Posner remind us, one of the chief responsibilities of the leader is to "inspire a shared vision."  From the follower's point of view, simply being led is not all that inspiring.  Being led so that I have a job for which I get paid is probably less inspiring.  On the other hand, being led to change the world, improve my community, or bring about good is very inspiring.  How well do you inspire by describing how your organization/movement contributes to the good life?
Focus on character. Leadership is not just an outside job ("Where are we going and what are we accomplishing?"), it's also an inside job that creates great change and even transformation within the leader.  To lead well requires a change of character: what kind of person the leader is, not just what he can do.  How's your character?  What character adjustments need to be made so you are living the mission, not just leading others toward it?