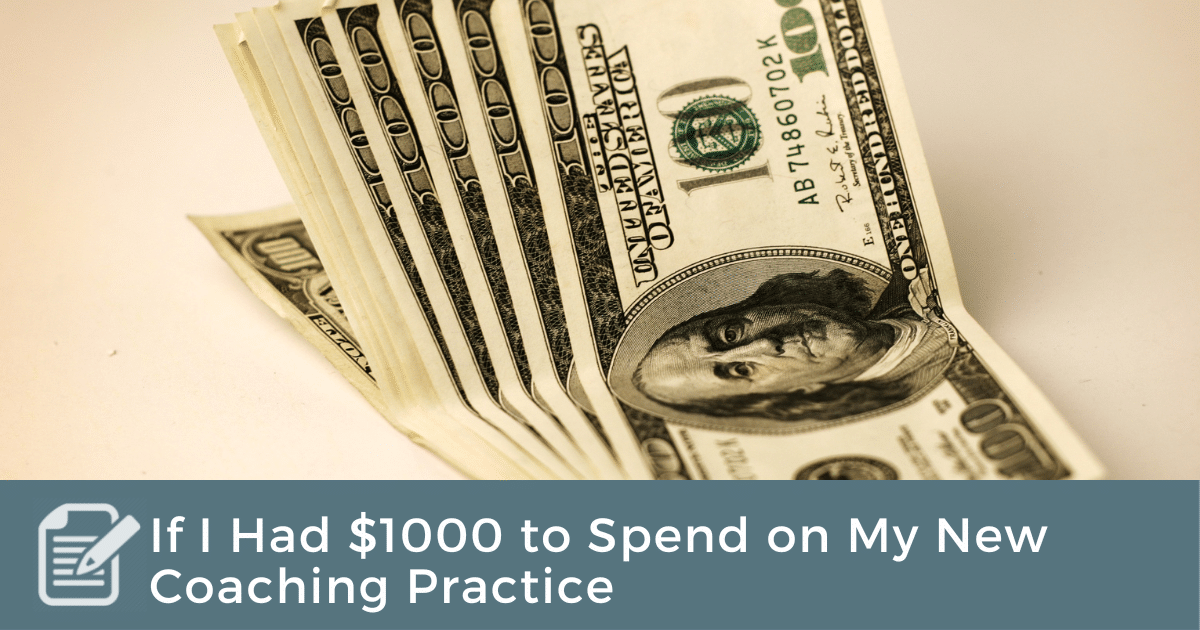 A new coach recently asked, "If you were a new coach and had $1,000 to spend, how would you spend it?" Great question! When I was a new coach, at least half of my clients were online. Today, more than 80% of my clients are online, even if they live locally. So, it is no surprise where I would put my money. I'd spend the $1,000 setting myself up to look professional online. All seven of my purchases are to create a professional and effective presence for my clients online. 
Blue Yeti USB Microphone ($99.99)  
Coaching is all about audio. Your client needs to hear your words and your tone clearly. A good microphone can create depth in your voice and provide warmth to your voice. Your computer probably has a built-in microphone and the camera I'm going to suggest does also, but I've had almost 15 years of great experience with the Blue Yeti. The last place I want to experience any lack of quality is in the client's ability to hear my voice. 
Logitech Brio Camera ($181.99) 
It is so easy to look washed out on your video. I've tried a lot of different options, most recently using the Camo software with my iPhone. The camera started lagging, and sometimes my phone would ring, or I'd get a text. The online world is now hi-def, so I went to BestBuy and bought the most expensive USB camera available. It was worth it! It automatically adjusts the color and lighting to make even me look pretty good. This makes the client feel more like I'm in the room with them. 
Brick Background ($13.99) 
Your background communicates something about your presence. I want my presence to say professional. So I don't want a bare wall or the headboard of my bed behind me. In my home office, I spent a few hundred dollars to build a shelving unit that holds some books and some mementos. But in another office I often use, I bought a fake brick background for $13.99. It turns a bare wall that could use some paint into a hip brick studio. (Ok, maybe not hip.) While it may not bolster my presence, it doesn't take away from it either. 
Domain URL ($12/year) 
You need a web address that speaks to the outcomes your client desires. Chad's company is http://stronglead.com. My company is called http://P3Leaders.com. We had purchased http://getp3coaching.com, but then Kelly Whelan at Belumleaders.org said that putting leaders in the name of her coaching business helped her clients know what she offers them. You might want to use your name, like http://brianamiller.com (I don't own it), but the best practices of marketing tell us not to make our marketing about us. Make it about the customer. 
Squarespace ($23/month) 
You need a simple one-page website. I really like Kelly Whelan's website at BelumLeaders.org. I would guess this was built in Squarespace. Notice the blocks with background colors from Belum's logo. This is an easy template to copy. This layout is based on a book by Donald Miller called Building a Story Brand. Notice at the top of the site is a picture that represents Kelly's clients. There is a clear statement of the outcome her company offers, "You were created to lead with confidence." And finally, you can't scroll 2" without seeing a button that says, "Schedule a Free Call" 
Professional Headshot Photo ($200) 
I included another link to the Belum website rather than to a photographer. Look at the difference a professional photo can make. I lose all doubt about Kelly's credibility. She looks like a rock star in the coaching world.  But don't miss the secret: it is just a great photo. You can get a great photo too. In my experience, you can hire a local professional photographer to give you a great photo or two for $200. It may seem unnecessary, but a great photo can instantly set you apart. 
Acuity Scheduling ($15/month) 
If you have more than a few clients, I'd encourage you to get a scheduling application. Finding a time that works for you and the client to meet can be exasperating, especially by email. This application gives the client all of my available dates and lets them choose one that works best. Then it syncs the appointment onto my calendar and sends them a reminder before the meeting. If you're serious about having plenty of paying clients, this is a must. It also integrates seamlessly with the Squarespace website. 
Conclusion 
If I had $1,000, that is how I would spend it on my new coaching practice. The goal of all of it is to communicate a professional coaching presence to my clients. I often say, "Presence can cover a lot of sins," meaning that good presence makes the client overlook your mistakes and shortcomings.  
Let me know in the comments what purchases you would make.