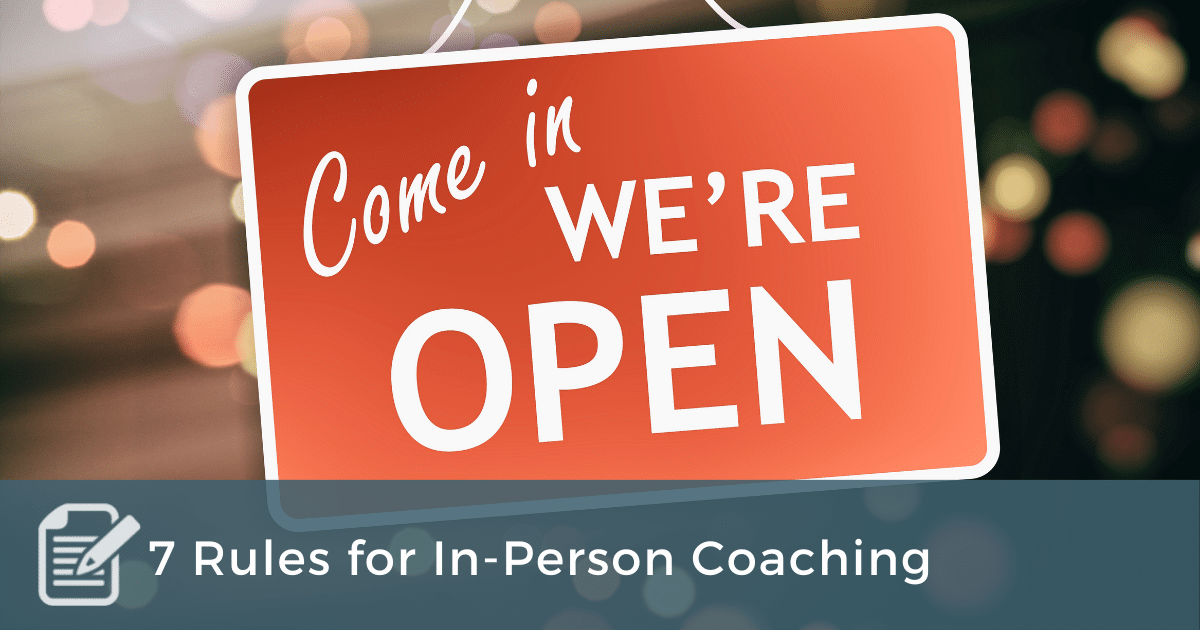 For the first 15 years of my coaching journey, almost all of my coaching was done via phone.  While many new coaches resist any form of coaching that is not in person, I found coaching over the phone to be successful.  Later, I found coaching via Zoom to work well, too.  (That is, so long as the connection is strong enough on both ends to allow for all the attention to be focused on the client and none to be focused on the tech.)
In the past few years, my coaching has taken a dramatic shift such that 90% is now done in person.  This emerging context has me thinking about best practices for coaching conducted in person, so let's consider 7 quick "rules" for coaching in person.
Don't get distracted by notetaking. When coaching via phone or Zoom, eye contact is not quite as important as when coaching in the same room.  Less eye contact means more opportunity for looking at notes, taking notes, and writing as you listen.  When you're in the same room, looking down at your notepad or device can result in your client feeling like you're not really listening.  Just be aware of this dynamic.  I've found it helpful to let the client see what I'm writing.  I do this by placing my notepad on the table between us (versus on my lap).  Sometimes I even tell the client what I'm writing.
Avoid back-to-back appointments. Clients sometimes show up early for their appointment.  And coaching sessions sometimes go over time.  That makes for a bad combination when coaching in person.  As much as possible, I avoid scheduling sessions back-to-back in order to avoid having to rush to finish with a client and/or having a client sit and wait.  This can't always be avoided, but with some scheduling intentionality, I've been able to cut it way down.
Have tissues ready. Just because coaching isn't counseling or therapy doesn't mean there aren't sometimes tears.  Coaching involves deep, personal, and significant issues, so it's normal for there to be emotions and sometimes the shedding of tears.  What really makes crying awkward is a client who has to use his shirtsleeve to wipe tears or a client who is forced to fumble through her purse in search of a tissue.  Having a box of tissues on my table makes it "normal" and seamless for the client to cry and to deal with tears.
Have plenty of paper. One of the things I love about coaching in person is the opportunity to draw, sketch, and diagram things with my clients.  In at least half my sessions, I put something on paper that the client wants to carry out of the session.  Instead of a legal pad that requires me to tear (and sometimes rip) the paper, I keep a stack of quality copier paper on hand.
Last week, I sketched out the Situational Leadership II model from Ken Blanchard for a client who was struggling to manage a key employee in a new responsibility.  Having paper on hand made the experience go smoothly and gave us a resource to leverage for helping evoke new awareness for the client.
Use space as a resource. When coaching in person, there are resources available that aren't an option when coaching virtually. Physical space is one such resource, so it's wise to make use of it.
I sometimes ask my clients to switch chairs with me and to let the change foster a change of perspective.  On rare occasions, I invite my client to take a walk with me to help boost creativity.
Avoid coffee shops. I get it that some coaches don't have an office dedicated to in-person coaching, which is why some coaches opt to conduct professional coaching sessions at Starbucks or Cracker Barrel.  Those are great places for coffee or French toast, but not so good for coaching.  I find that in-person coaching conducted over a meal (or even a cup of coffee) diminishes the intentionality of the conversation considerably.  Find a spot to meet that conveys the importance of the coaching relationship and the client's agenda.  Sometimes that can mean rented or borrowed space.  I know some coaches who have a home office with a dedicated entrance.  Other coaches use flex space options in their city.
Be hospitable. A client is a guest, so treat them accordingly.  If they are visiting your office, offer coffee or water.  Provide pens, legal pads, and other note-taking resources.  Have a clean office.  If you have restroom facilities, ensure they are clean and well stocked.  Do what you can to make the client feel comfortable, safe, and important.  When the client experiences good hospitality, they are more likely to bring their best to the coaching conversation.
Those are some of my own best practices for in-person coaching.  I'd love to hear yours.  And if one of my "rules" contradicts something you've found helpful, please share in the comments.  Readers of the CAM blog need to hear from both approaches!